Emma our nutritionist at The Herbal Dispensary has put together a delicious recipe that's easy to prepare and ensures you're eating healthy meals through this hectic time!
Prepping simple nutritious meals can be the key to relieving some of that end of year stress and pressure you might be carrying. It's also a great way to save money, lower your food wastage and allows you to take control of your nutrient intake and portion sizes.
See below the ingredients and method used to create this quick and easy meal prep.
Ingredients:
(serves 4)
½ cup brown rice
½ cup quinoa
½ cup coriander
1 400ml can of organic black beans
2 cups leafy greens (I used kale & chicory greens)
1 avocado (sliced – drizzle with lemon to preserve)
1 carrot (grated)
1 lemon (squeeze ½ over rice & quinoa mix)
¼ red cabbage (thinly sliced)
⅓ cup extra virgin olive oil (EVVO)
2 tbsp sunflower seeds
salt & pepper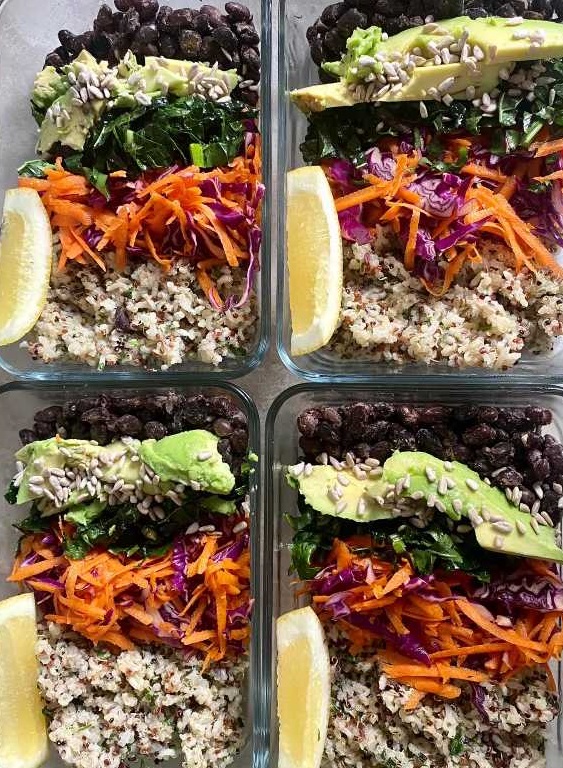 Method:
• soak rice and quinoa for 5 minutes before cooking on the stove or pressure cooker
• once cooked, add coriander, ¼ cup of EVOO, squeeze lemon juice, salt & pepper and mix together
• drain and rinse black beans before cooking on the stove for 3-4 minutes
• prepare all other ingredients
• combine cabbage and carrot and a drizzle of EVOO
• combine and massage kale and chicory greens and a drizzle of EVOO
• evenly distribute all ingredients in the containers
• sprinkle sunflower seeds
• add salt & pepper to taste
*lemon juice helps to stop avocado browning quickly, option to add avocado fresh each day if you prefer